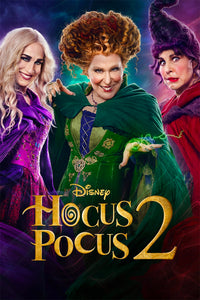 Hocus Pocus 1 & 2 (Commentary Tracks)
---
YO VIRGINS! Lets get this black flame candle LIT!!
Just in time for Halloween, my sister Jillian joined me to watch the childhood classic HOCUS POCUS! Does it still hold up? Or is it just a buncha Hocus CROAKus? Plus, I give lots of insight into the differences between the shooting script and the final product, and it is all 100% authentic information. I promise. Come little children, lets watch!!
And then...
Make way for the Strifflerson Sisters!
It's been thirty years since the first movie... and five years since our commentary track for it... and now Jillian & I could not be more excited to watch...
HOCUS POCUS 2!!!!!
Everybody is back! Except for Dani and Max. And Allison. And Thackery Binx. But whateverrr because THE SANDERSON SISTERS ARE BACK AND THEY LOOK AMAZING!!! 😍
Were they able to step right back into their classic roles? What song will they sing this time around?! And most importantly... can they make up for uninspired child actor performances?
Ask your nearest virgin to light the black flame candle and lets get witchy!!
This is an audio file that is meant to be listened to along with the movie.