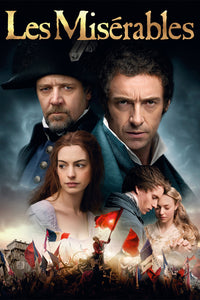 Les Misérables (Commentary Track)
---
The Showmen are back for another Hugh Jackman twerk-a-long!
At long last, Eric, Miles, Andrew, & Nick have teamed up once again to don various Showman hats as they power through two and a half hours of nonstop showtunes, camera shadows, and maybe-good-maybe-bad singing in Les Misérables, a film from Cats director Tom Hooper before he seemingly got whacked in the head by a 2x4.
This may be the ultimate track that does not even require syncing up with the movie because it is absolute chaos from start to finish and I dream a dream of someone listening to it in its entirety on a road trip with friends. Please, someone, make that happen.
This is an audio file that is meant to be listened to along with the movie.