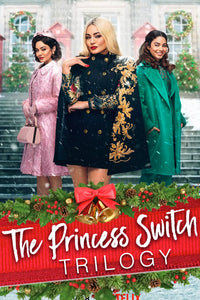 The Princess Switch Trilogy (Commentary Tracks)
---
THREE Vanessa Hudgens for the price of ONE?! THANK YOU, SANTA!!
Folks, it's that time of year again. You know the one. The one that's the most wonderful. And to celebrate, we're watching a brand new Netflix Christmas movie that is essentially just the latest version of the twin switch trope a la The Parent Trap, It Takes Two, the remake of The Parent Trap, etc. Sprinkle in a little holiday cheer and voila: The Princess Switch!
Then, Aaron & Jo join me for The Princess Switch: Switched Again! Featuring not one, not two, but THREE Vanessa Anne's, this one dials the switching up to eleven to the point where they even switched the actress playing the little girl! Luckily Obama was able to reprise his role, and he's even more elated about Christmas decor this time around.
Finally, I guess it's officially an annual tradition to celebrate the birth of our Lord and Savior Jesus Christ with The Vanessa Anne Trio! Will the third installment feature a fourth one? Or perhaps a second Barack Hussein? You'll have to join us for The Princess Switch 3 to find out of course!
This is an audio file that is meant to be listened to along with the movie.