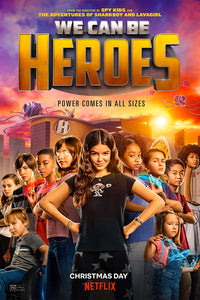 We Can Be Heroes (Commentary Track)
---
tw // blackface
Do not watch this movie. I'm serious. You can never get back the precious time that you'll lose having to sit through it.
If you choose to venture forward, don't say we didn't warn you...
We Can Be Heroes is the latest film from Spy Kids creator Robert Rodriguez that was kinda marketed as a sort-of-sequel to Sharkboy & Lavagirl. You like annoying kids? Here's a dozen. Vaguely useful superpowers? Plenty. Sharkboy & Lavagirl? Not really.
Spy Kids enthusiast Zach is back and regrets it. We all regret it.
Look, this is obviously for kids and we are grown men, but we LOVE Spy Kids and the general zaniness of Rodriguez's design aesthetic when it comes to his kids movies. This one, however, is truly a nightmare.
This is an audio file that is meant to be listened to along with the movie.