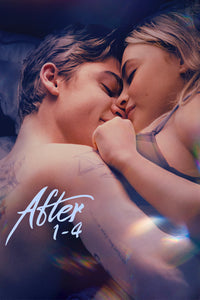 After Series (1-4) (Commentary Tracks)
---
Joining us to watch this film adaptation of a Harry Styles fanfic is none other than Kurtis Conner! After is actually adapted from a Wattpad fan fiction about Harry Styles. It's like a Kidz Bop version of Fifty Shades of Grey! ("Your honor...")
Then, Jon Cozart joins for After We Collided having never seen the first, and it's almost impressive how little that mattered. We could not believe what we were seeing at times, we screamed at the truly shocking twist ending, and we loved Cole Sprouse's performance.
And that's not all! Whether we recognize them or not, all of our favorite characters are back for After We Fell! There's Hardin and Tessa, their dads, homeless or otherwise, their moms briefly, and their friends, boss, etc. Classic!
Finally... we've suffered through three of these movies already and After Ever Happy is the finish line. Right?
This is an audio file that is meant to be listened to along with the movie.