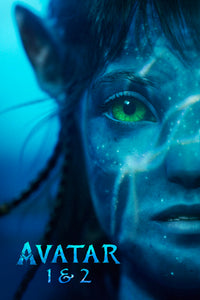 Avatar 1 & 2 (Commentary Tracks) (Commentary Tracks)
---
Ma Eywa, Ma Eywa, Ma Eywa…
If you've never seen Avatar then you must be living under a rock, and I ain't talking floating rocks hunny! In anticipation for its long-awaited sequel, we decided to revisit the highest-grossing movie of all time to see how well it holds up.
And then... we experienced Avatar: The Way of Water exactly as Mr. Cameron intended: in 2D, with papyrus captions, projected on a greasy wall, in the back row of a drive-in. Oh and it was raining. It ain't called The Way of WATER for nothin, kid!
PS. Accidentally cut the recorder for a bit during the Avatar: The Way of Water track, but luckily we have backup audio. Apologies for the change in audio quality for a few scenes!
This is an audio file that is meant to be listened to along with the movie.