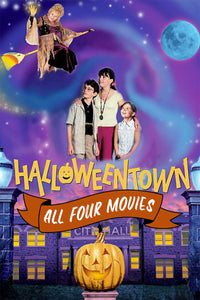 Halloweentown Series (Commentary Tracks)
---
HalloWEEN is COOL!!!!!!! 🎃

Apparently my sister Jill watches Halloweentown every October, but I haven't watched it in years so I was curious to see how well it held up. In my mind, it's an absolute Halloween classic. In reality? Perhaps not... especially since it's a bit overshadowed by most of the cast having since passed away. Don't believe me? Look it up!
And while we're at it, lets just watch all four Halloweentown movies to get it over with! Neither of us had ever seen the sequels, but we know that Marnie is recast in the fourth and boy are we pissed...
Already own our commentary track for the first Halloweentown and want to complete the collection? Click here to purchase our tracks for Kalabar's Revenge, Halloweentown High, & Return to Halloweentown!
This is an audio file that is meant to be listened to along with the movie.