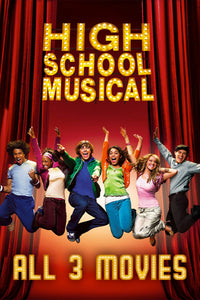 High School Musical Trilogy (Commentary Tracks)
---
DON'T WANT TO BUY ALL 3 TRACKS? CLICK BELOW FOR INDIVIDUAL TRACKS:
High School Musical
High School Musical 2
High School Musical 3: Senior Year

What team?! WHAT TEAM?!?
Over the course of three nights in NYC, Derick & I watched the original High School Musical trilogy along with an amazing crowd who sang, danced, & dressed up with us. The energy was off the charts!
Thanks so much to everyone that came out and shared this experience with us, these were truly A Night(s) to Remember!
This is an audio file that is meant to be listened to along with the movie.