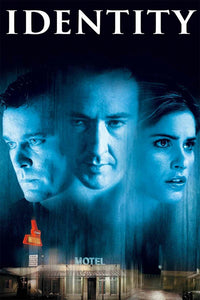 Identity (Commentary Track)
---
Dirty John Betty is back.
I hope you're ready to delve back into the insane world of Dirty John Betty with me and Miles, because this was recorded around the time we recorded those tracks and it was still at the front of our minds. No, this is not Dirty John Betty: The Movie. This is Identity.
If you've never seen this movie, you are in for as wild a ride as The Betty Broderick Coaster would be if Universal would approve our plans for it. If you have seen it, then you know this is the exact type of movie you'd want to see someone watch for the first time. Pleased to report it's as fun as you'd hope!
This really is one of my all-time favorite movies, and while I recommend watching it on your own first, it is also safe to watch with us because Miles has never seen it and so there is no spoiler discussion prior to any of the many twists and turns.
This is an audio file that is meant to be listened to along with the movie.