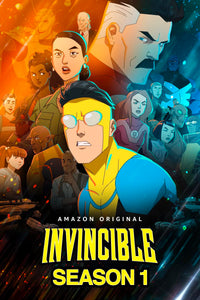 Invincible: Season 1 (Commentary Tracks)
---
Jeeeeeeeeeeesus Christ.
The only things I knew going into Amazon's new superhero series Invincible are that it's animated, it's for adults, and it has a stacked voice cast. Otherwise I avoided everything about it once I caught wind that folks were diggin it, and so did Mike & J of We Watched A Movie! As fellow fans of all things fucked up, I brought them in just in case this show was really for adults... and boy were they the right choice for this marathon.
Buckle up. Or don't. This show doesn't care.
These are audio files that are meant to be listened to along with the show.