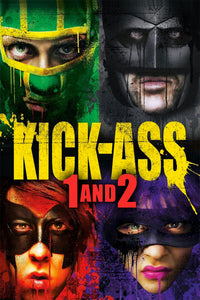 Kick-Ass 1 & 2 (Commentary Tracks)
---
To celebrate the ten year anniversary of its release in theaters, I decided to watch one of my all-time favorite movies...
Kick-Ass!
And then I unfortunately followed that up with the lackluster sequel. More on that later.
If you've been following me since I started Pretty Much It back in 2010, you're likely already aware of my love for Kick-Ass. It's one of the earliest movies I remember seeing an absurd amount of times in theaters, as well as the very first movie I ever saw at SXSW, so it holds a special place in my heart.
And boy does it show! Can we get some tissues in here?! I mean that music! C'mon!!!
The same can't be said for Kick-Ass 2.


This sequel literally only has one thing going for it. What it lacks in heart, energy, laughs, tone, pacing, and pretty much everything else, it makes up for with Jim Carrey. In fact, he's so good that he actually makes the rest of the movie even worse. Why is he giving it his all when nobody else is? How did they get him to sign on for this?
I recommend watching these in reverse order so you can end on a high note.
This is an audio file that is meant to be listened to along with the movie.