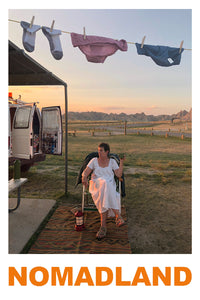 Nomadland (Commentary Track)
---
Folks, I have a huge announcement to make that may shock you: I live in a van! And you know who else lives in a van? Frances McDormand in Nomadland!!!
Nomadland tells the story of people who live in vans, some who do it because they choose to, like me, and others who have no choice. Driving all day, sleeping in parking lots, and shitting in buckets. Whether that sounds exciting or depressing is up to you.
This one felt like a no-brainer because it offers me an opportunity to share some stories from my past few years living on the road, as well as answer lots of frequently asked questions about my lifestyle, but I wanted to do it in an appropriate way. Recording from inside the van? Been there, done that. Recording from outside the van? Now that's a road I've not traveled down... until now.
Wind in the mic? A bit. Sand in my eyes? A lot. But it's all worth it for the lovely scenery and the suspense of finding out whether or not I started recording at just the right time to capture the full sunset.
As you'll hear me say a few times in the track, recording outdoors is one of those situations where I had no idea how it would turn out, but I've been really wanting to try. While it's definitely a lot more story-time / Q&A then it is commentary, I honestly can't think of any other way I would have done a track for Nomadland. I'd love to know what you think of it, and of course if you have any more questions about my experience living in a van that I didn't answer then please feel free to ask me!
This is an audio file that is meant to be listened to along with the movie.