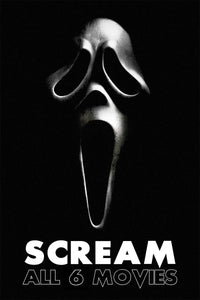 Scream Series (Commentary Tracks)
---
What's your favorite Scream movie?
Alright, I'll admit it: I'm a fake ass horror fan. The only Scream movie I've seen is the first, and it was so long ago I barely remember it. But it's finally time to right this wrong.
In preparation for a brand new entry in the series, I marathoned Scream 1, 2, 3, and 4 from the comfort of my new van Ruth. Less comfortable? The various creepy parking lots I sat around in all night. But hey, couldn't have picked a better spooky setting to watch these movies in!
And then I watched the new Scream.
Like, the NEW one.
Scream 5.
That's right, folks. Ruth and I hit up drive-in to watch the fifth installment on opening night, and now you can watch along with my commentary track in the theater! Or you can wait til the movie is streaming, I guess. Or maybe you're reading this in the year 2050 and nothing matters!
Or... you're reading this in 2023 after I went back to the drive-in for Scream 6! All 6 Scream movies, baby. Let's get spooky!
This is an audio file that is meant to be listened to along with the movie.