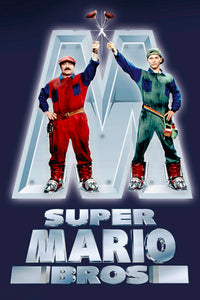 Super Mario Bros. (Commentary Track)
---
Let's-a-go, I guess.
This year we're finally getting a new Mario movie that looks colorful and fun... but this is not that.
This is a dark and fucked up take on the world we know and love that does not resemble it in the slightest.
This is Super Mario Bros.
Inspired by, albeit completely ignoring, the classic Nintendo games, this 90's nightmare stars Bob Hoskins and John Leguizamo as everyone's favorite Italian plumbers, Dennis Hopper as Bowser, and Samantha Mathis as Princess... Daisy? Sure, why not! Fuck it!!!
I'm joined by video game experts Jake Baldino and, for the first time on a commentary track, oldschool PMI alum Andrew Gebbia!
This is an audio file that is meant to be listened to along with the movie.