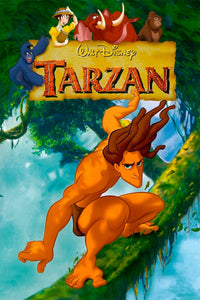 Tarzan (Commentary Track)
---
We forgot how dark this movie is...
Are you ready to sing-a-long to one of the greatest movie soundtracks of all time?! After tackling Emperor's New Groove and Hercules, Allison & I have been excited for this one for a while: Tarzan, starring Phil Collins! Lets be real, it's the Phil Collins movie and we all know it.
Of course the music is excellent, but we forgot how beautiful the animation is and how traumatizing it could be for children. Do you remember the ending?! Sheesh!!!
Do your vocal warm-ups now because you will not be able to watch in silence.
This is an audio file that is meant to be listened to along with the movie.