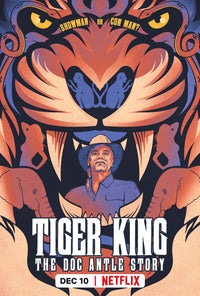 Tiger King: The Doc Antle Story (Commentary Tracks)
---
The Doctor is in... as long as you're a teenager.
Haven't had enough Tiger King yet?!
Oh, you HAVE had enough?
WELL TOO BAD HUNNY BECAUSE IT'S TIME FOR SEASON 3 OR SOME SHIT!!!
Tiger King: The Doc Antle Story tells the story of - you guessed it - Doc Antle. Mysteriously (until now) absent from Tiger King 2, the Doc himself wound up getting his own season. Kinda. I mean it's three episodes. Is this Tiger King 3? Truly no idea.
Dude's a super creep so buckle up.
And of course... GO TIGERS!!!!!
These are audio files that are meant to be listened to along with the movie.