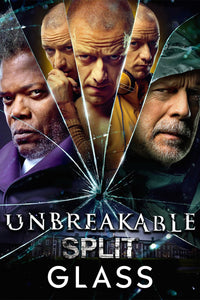 Unbreakable Trilogy (Commentary Tracks)
---
The nice part about watching this M. Night Shyamalan trilogy in the wrong order is that we get to wrap it all up with the best entry rather than the worst...
We recommend watching in our order for all of the tracks to make sense, beginning with Split, which is a surprise sequel but does work on its own.
In Glass, we find our heroes (and villains) trapped in a pink asylum with Sarah Paulson, forced to confront whether or not they actually have special abilities. A cool concept, but how bout that execution tho?!
And finally, we saved the best for last...
Released in 2000 when M. Night was literally being hailed as "the next Spielberg" (oof), Unbreakable is essentially the first act of a superhero script fleshed out into one film, and boy is it freakin awesome.
Already own our commentary tracks for Split and Glass and want to complete the collection? Click here to purchase our track for Unbreakable!
This is an audio file that is meant to be listened to along with the movie.